Industrial Painting in Warrenville, Illinois
Need something industrial painted in Warrenville, Illinois?
Local companies trust the skilled painters at Painter's Logic for industrial painting in Warrenville, IL. Serving the business community since 1980, Painter's Logic offers power washing, painting, refinishing and sealing services to Warrenville clients of any size.
Our fully trained painters have handled industrial painting projects across IL, including interior and exterior painting, refinishing and floor sealing. Painter's Logic works with well-maintained equipment, using the latest painting tools and high quality painting products. Warrenville businesses strive to present a clean, professional face to local clients, and the skilled painters at Painter's Logic can help. Ask about our power washing services and paint preparation as well.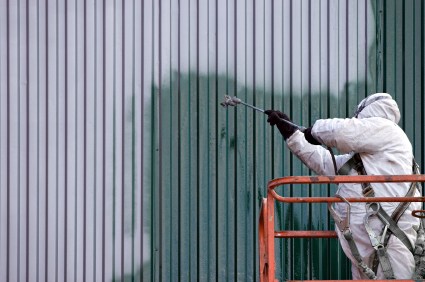 Let Painter's Logic help your Warrenville firm stay within the renovation or maintenance budget with professional service at affordable rates. We provide all levels of Warrenville, IL industrial painting services and strive to remain competitive with other Warrenville painting firms. Compare and discover the value that Painter's Logic delivers to local companies, freshening and cleaning up industrial spaces, structures and equipment.
Each Warrenville project is handled with care, starting from initial analysis and preparation, through to application and clean up. Customer satisfaction remains top priority, as any of our Warrenville clients will confirm. Local references are available, and our industrial painting work can be seen in various facilities across IL.
Painter's Logic provides professional industrial painting with fully trained painters at competitive prices, dedicated to customer satisfaction. Serving the painting needs of Warrenville industry, Painter's Logic remains the leading choice for industrial painting in Warrenville, IL. Call (630) 296-9280 today for more information.

---
Call for FREE Industrial Painting Quote
---
WHAT CUSTOMERS ARE SAYING:
5★★★★★ - "Exceptional service for our Georgian style home. We really appreciated how Robert was not scared and did not shy away from advising us on ideas and even colors for our home. We went with a stunning color and color combination we would not have not even known about that enriched the home and its presence incredibly. We could not have found this without Roberts expertise and willingness to share his over 30 years of experience with us. Both his insight and work are exceptional and speak for themselves."

Anonymous in Naperville, IL

2019-08-19

5★★★★★ - "Robert was phenomenal AGAIN! This is the 2nd time we've had the privilege of Robert working on our home and couldn't be happier with his quality, dependability, and fair pricing."

John in Naperville, IL

2019-08-12

5★★★★★ - "Bob's attention to detail is superb!"

Anonymous

2019-07-25

5★★★★★ - "Robert did an awesome job!"

Joe Monachello in Naperville, IL

2019-07-25

5★★★★★ - "We hired Robert for a big job for our home- painting kitchen cabinets, trim, doors, family room, kitchen, hall and foyer walls. His estimate was very reasonable and the work was high quality. He exceeded our expectations and was a pleasure to work with! He has many years of experience and we really appreciated his suggestions for our project. We would not hesitate to recommend him and we look forward to working with him again!"

The Browns in Aurora, IL

2019-07-22

5★★★★★ - "We were looking for an experienced painter in the Naperville area who could do interior and exterior painting. Robert came in to give us a quote and right away was obviously far and away more knowledgeable and seasoned of a painter then the other two big-name companies I had quotes from. He really took his time, checked everything in detail and even gave us truthful recommendations that in the end saved us a lot of money. It was clear he was honest in his assessments and not out to gain more work. We hired him on the spot. In a few days, he painted our home, fireplace and helped with a few other critical areas in the house. His work was flawless and one could see he is a perfectionist with both his work ethic and the expectations he sets with his customers."

Craig in Naperville, IL

2019-07-16

5★★★★★ - "Excellent, professional, fast, and beautiful work."

Glen in Naperville, IL

2019-07-15

5★★★★★ - "We had Bob come give us a quote for painting all the bedrooms, bathrooms, the kitchen and the living space. His price was very reasonable. He gave us a number on the spot, that was a plus too. We actually got a slightly cheaper quote from another gentleman but we chose to go with Bob anyway because we felt like we could trust him and he exudes confidence in his work and he has a lot of experience. He personally executed the work instead of sending a crew which means he is very attentive to the detail and quality since it directly reflects back on himself and his business. The finished product looks excellent and he was very quick! He was able to get started only a few days after he came for the quote. We had Bob come while we were at work and I was completely comfortable with that. I would recommend Bob and Painters logic to anyone and everyone!"

Lauren Richard Ruhl, Painting in Chicago, IL

2019-06-27

5★★★★★ - "Quote was very competitive, quick and efficient.
The work was completed at a very high standard.
Our job was both trim, dry wall and cabinet painting.
Painter was a perfectionist and made show he worked at a high level, giving attention to detail.
Delighted that the work was done ahead of time.
Overall the service, work and overall experience was very good"

Ady G., Painting in Chicago, IL

2019-06-27

5★★★★★ - "The process was quick and priced fair. Robert was a gentleman from the beginning, you could tell by his word choices, he was more concerned about doing the best possible job, the results were immaculate"

Omer Aslam in Aurora, IL

2019-06-17

5★★★★★ - "Was amazed at the paint job done on my kitchen cabinets. They look incredible! Have had several people come over to see them, and all left equally impressed. Robert did a terrific job. Highly recommended!"

Anonymous

2019-06-05

5★★★★★ - "We had a very large pergola cleaned, stained and repaired. Bob was a pleasure to work with. He was very responsive, neat and considerate of our belongings. I would not hesitate to recommend him. I will be calling him for more work to be done in our home."

Karen C in Bolingbrook, IL

2019-05-16

5★★★★★ - "Great job at a great price"

Glenn in West Chicago, IL

2019-04-22

5★★★★★ - "Bob did an amazing job painting the kitchen and bath cabinets in my new house! He worked fast, efficient and clean! I have a new kitchen for a fraction of the price of new cabinetry!!"

Linda Callaghan in Elburn, IL

2019-03-06

5★★★★★ - "Robert did a fantastic job painting our kitchen cabinets. His price quote was very reasonable and his work was very professional. He handled the entire project himself and all the work was completed with an expert's touch. He even fixed some previous imperfections on the cabinets and doors. I would hire him again if we ever needed any more painting work done"

Jason Muhr in Elburn, IL

2019-02-04

5★★★★★ - "Robert did an amazing job on our complete interior painting project! 10 stars!"

Anonymous in Darien, IL

2019-02-04

5★★★★★ - "We were very pleased with Bob from start to finish. We just bought a new house that needed a total interior paint job. Bob was very helpful in the process. He advised on painting techniques and used his industry expertise to help us choose paint colors. I feel he went above and beyond what I was expecting. He even met with us and the flooding people to work with everyone's schedules. Our home looks great and the paint job he did to our fireplace is beautiful. 5 of 5 from me, would hire again."

Brandon in Montgomery, IL

2019-01-21

5★★★★★ - "The company quoted competitively.
Arrived on time and finished earlier than expected.
Perfectionist and made sure the job was completed fully with detail and over delivered.
We were so happy that we got a quote for another job and This was finished quickly as well."

Anonymous in Clarendon Hills, IL

2018-12-06

5★★★★★ - "The job was done on time and exactly to my specifications. I would highly recommend this person to anyone."

Anonymous

2018-10-23

5★★★★★ - "Robert transformed our 20+-year-old colonial staircase into a modern masterpiece. The cleanliness and precision of his work are like no other and the final results are an amazing reflection of his many years of knowledge & expertise. We highly recommend him for all of your painting needs!"

Gloria in Aurora, IL

2018-09-04

5★★★★★ - "Robert was a pleasure to work with and did a great job! Very reliable and very particular about his work. He also took care to make sure my home stayed clean during the process! Would definitely use him again!"

Christine in Aurora, IL

2018-08-27

5★★★★★ - "Robert did an excellent job painting the cedar and windows of our house, and our large pergola. His price was very competitive and his work quality was superb. He used a spray technique on most of the house and pergola. The spray technique does use a little more paint than the normal brush-type style painting, but the spraying gave us 2 to 3 coats of new paint on the house, and when using the spray technique, Robert was able to get into all of the hard to reach area that brushing does not get to well. He covered all of our shrubs, trees, and outdoor furniture, and sprayed and rolled and brushed painted all of the areas we needed painted. He used a California-cut type style on the corners and painted the trim and gutters around the windows. The gutters now look brand new. His prep-work was also excellent as he sanded, caulked and taped or covered (with plastic) appropriate parts of our home.
Overall 10 out of 10 stars"

Steve in Naperville, IL

2018-08-07

4★★★★☆ - "Robert was on time, finished quickly and the walls look great!"

Marco in Naperville, IL

2018-07-09

5★★★★★ - "Robert did a great job. He was neat and quick. A true professional."

Sean and Darren in Oswego, IL

2018-06-21

5★★★★★ - "Robert did an excellent job painting the first floor of my home."

David in Oswego, IL

2018-06-21

5★★★★★ - "Best painting company very service oriented. On time actually finished ahead of schedule. My kitchen and bedrooms look awesome."

Lisa M., Interior Painting in Aurora, IL

2018-05-22

5★★★★★ - "Robert did a great job painting our home. Friendly guy and he worked very efficiently. We really appreciated him working around our busy schedules."

Anonymous in Lisle, IL

2018-04-02

5★★★★★ - "We called two different painting companies to fix stair rails we attempted to do ourselves, and felt most comfortable with Robert. We were hopeful he would be able to fix the mistake we made in attempting it ourselves. With over 100 balusters to stain and paint, he did an impeccable job!! There isn't a single imperfection. I am SO glad we chose him over another company."

Amy & John, House Painting in Aurora, IL

2018-02-01

5★★★★★ - "Robert was a delight to work with.His price was less than other contractors and the job he did is amazing.Well done."

John D, Drywall Repair

2018-02-01

5★★★★★ - "Robert was great to work with, he did an phenomenal job. He is an expert at his craft, we will definitely use him again."

Quiana, Interior Painting in Bolingbrook, IL

5★★★★★ - "Bob did a wonderful job painting the interior of my house. He also removed a wall to open up my kitchen."

Anonymous, Interior Painting in Downers Grove, IL

2017-11-02

5★★★★★ - "Robert has done a couple of my repainting projects over the years and has always done an outstanding job. I am very pleased with the quality of his work and professionalism. He is always my first choice when I need a project done."

Nancy , Painting

2017-10-30

5★★★★★ - "Meticulous, efficient, and so friendly! I am ecstatic with the way my house exterior turned out! I will be calling Robert for our next project for sure!"

Anonymous, House Painting in Aurora, IL

2017-10-30

5★★★★★ - "Excellent work! Meticulous, efficient, and friendly! I will definitely be calling Robert for our next project!"

Angela, Exterior Painting in Aurora, IL

2017-10-30

5★★★★★ - "Huge shout out to Bob. He is reasonable and affordable. I am very bad at writing reviews, but I decided to take some time and give this awesome guy a review. He is an awesome guy and perfectionist. He not only did the interior painting job for an affordable price, but also fixed lots of stuff, at no cost... He is like one man army, did not give up even when he had no help. He came all by himself and completed the job even before the estimated time. I would totally recommend Bob!!!!"

Kranthi, Interior Painting in Aurora, IL

2017-10-23

4★★★★☆ - "Finished work on time"

Laurence in Aurora, IL

5★★★★★ - "Robert quoted a reasonable price for interior painting and started the same week. Good communication. Not a drop of paint on the baseboards. Wall repairs undetectable. Uniform finish with no lap marks. Satisfied with finished product."

Ted in Geneva, IL

5★★★★★ - "BOB IS THE GREAT PAINTER, GOOD PRICES AND GREAT WORK, HIGHLY RECOMMEND!"

TONY in Aurora, IL

5★★★★★ - "Great job! Very professional and on time! Will be using Robert again soon."

Lisa in Naperville, IL

5★★★★★ - "I wish I could give 10 stars!! Robert did a fantastic job from start to finish. Robert was a pleasure to work with. He responded to my quote request right away. Robert came out and walked the property the same day right after finishing another job. He was so professional and knowledgeable that we agreed to the contract the next day. There was absolutely no pressure and no upselling. He actually even included the garage door into the price so that when the exterior paint was complete it would look consistent and clean. I cannot express how happy we are with the finished job - when you spend a good amount of money, you want to feel like you got your money's worth and we absolutely do. I recommend them 100%."

Sam in Carol Stream, IL

5★★★★★ - "He painted 2 bedroom and a bathroom ceiling. A job well done. I am going to use him again to paint my kitchen which he is professional. Do hire him, great prices. Don't wait to long, he might be booked."

William L., Interior Painting in Geneva, IL

5★★★★★ - "Did a great job and fast"

Mark in Geneva, IL

5★★★★★ - "Robert did an excellent job at our home, his depth of knowledge and professionalism definitely showed in the final product. He was easy to work with and was able to start and finish the work in a very timely manner. I have recommended his work to several of my neighbors who are considering future projects."

Tad in Palatine, IL

5★★★★★ - "Robert is a complete professional. He offered suggestions and used his expert advice to help us. I would absolutely use Roberts skills."

Todd Schmauderer in Schaumburg, IL

5★★★★★ - "Quality of the painting is outstanding. Very detail oriented. Would definitely hire Robert for my next painting job. Shows up on time and trustworthy."

Tess in Naperville, IL

5★★★★★ - "Robert gave us a good quote and he started painting our house within a week. He was easy to work with and we were very satisfied with his work."

Don Klaas in Wheaton, IL
---
Call for FREE Industrial Painting Quote
---