Professional Painters
Serving the Aurora - Naperville, Illinois Area
Specializing in Interior Painting & Cabinet Painting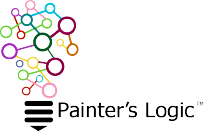 Looking for a reputable Painter in Aurora, Illinois? Delivering flawless painting services in Aurora, IL, Naperville, and surrounding areas since 1980, Painter's Logic is dedicated to each and every one of our residential or commercial painting projects. With our customer's satisfaction first on our priority list, our expert team of skilled Aurora painters provides guaranteed results so that you can enjoy your freshly painted Aurora area home or business for many years to come!
---
Call for a FREE Quote
---
★★★★★
"We had the exterior of our home completely painted and stained and it was no easy feat. Robert went ABOVE AND BEYOND to ensure we were happy during every step of the way. He was timely, neat, professional and personable. Quite honestly, just a wonderful person to work with. His rates are more than reasonable particularly when considering the wealth of experience and knowledge he possesses regarding homes and construction. I am SO pleased with the care and precision he spent while working on our house. Thank you Robert (and Tony) for all of your hard work and effort. I am definitely singing your praises to my neighbors!!"
- Kyra Fitzgerald
Make your interior update complete with a fresh coat of paint on your walls, ceiling, and trim. Painter's Logic recommends painting woodwork, stair risers, molding, and trim every couple of years. We use top-quality paint, primer, and painting tools to give you the best possible results. Invest in your home with professional interior painting for every room in your house. Call (630) 296-9280 to find out how we can improve the value of your home.
Want a cost-effective way to update your kitchen? Cabinet painting can give you a whole new updated look without breaking the bank! If you are considering replacing your cabinets, wait! If they are in good repair, refinishing them could save thousands of dollars. Painter's Logic has been refinishing (painting and staining) kitchen and bathroom cabinets since 1980. Make your kitchen and/or bathroom look fresh and new with a coat of paint or refinish with stain for a fraction of the cost of replacing them.
Kitchen Cabinet Painting: Refinishing kitchen cabinets requires skill and attention to detail that Painter's Logic is well known for. We can refinish cabinets to create the style and color scheme that you've always wanted. Has your kitchen become dull and dated? Painting your kitchen cabinets is the #1 way to update your kitchen and save money. Get a new kitchen at a price you can afford. Now is the perfect time for you to rejuvenate the center of your home. Call (630) 296-9280 for a free consultation.
Bathroom Cabinet Painting: Painter's Logic can also add pizzazz to dull or dated bathroom cabinets. The professional painters at Painter's Logic are outstanding at bathroom cabinet repainting and staining. Call the experienced cabinet refinishers at Painter's Logic and watch them use their craftsmanship to transform your bathroom cabinets and enhance their beauty. Your bathroom vanity will look great with a quality finish.
15% OFF
Cabinet Painting & Interior Work
expires 10/31/2021
Why Choose Painter's Logic As Your Aurora Painter
With many Aurora area painters to choose from, we understand it's hard to pick the right one. Here at Painter's Logic, it is our goal to beautify your surroundings at a fair price. Striving to exceed your expectations for 41 years, our dependable, trustworthy and passionate Aurora painters are committed to providing you with a long-lasting impression. Our mission is to enhance the essence of your home or business.
---
Call for a FREE Quote
---

What Our Valued Customers Are Saying:
★★★★★
"We called two different painting companies to fix stair rails we attempted to do ourselves and felt most comfortable with Robert. We were hopeful he would be able to fix the mistake we made in attempting it ourselves. With over 100 balusters to stain and paint, he did an impeccable job!! There isn't a single imperfection. I am SO glad we chose him over another company."
Amy & John, House Painting in Naperville, IL
★★★★★
"Huge shout out to Bob. He is reasonable and affordable. I am very bad at writing reviews, but I decided to take some time and give this awesome guy a review. He is an awesome guy and a perfectionist. He not only did the interior painting job for an affordable price, but also fixed lots of stuff, at no cost... He is like one man army, did not give up even when he had no help. He came all by himself and completed the job even before the estimated time. I would totally recommend Bob!!!!"
Kranthi, Interior Painting in Aurora, IL